Chameleon Development Environment (CDE)
Putting it all together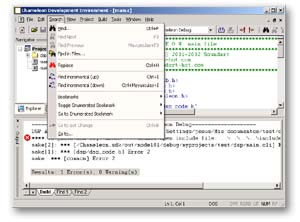 To vastly simplify the task of writing and compiling code, there is a complete Integrated Development Environment.
This is the only tool you'll need to write Chameleon applications.
The CDE works like most code editors, although has been designed specially having in mind the particular needs of the Chameleon application developer, using methods such as syntax highlighting, custom project templates, and so forth.
Main features
Project oriented.
Multiple document interface.
Fully integrated compilation and build processing shell.
Compilation output visualization and direct jump-to-code for error and warning messages.
C/C++, Makefiles and DSP assembler language syntax highlighting with bookmarks and multiple undo levels.
Advanced search in and between files with regular expression support and direct jump to search results.
Use of templates to create new files and projects.
Auxiliary development and user tools calls (Chameleon Toolkit, DSP simulator, Scilab, Explorer...).
Highly customisable (colours, tools, menus, skins...).
Download it
The latest version of the Chameleon Development Environment is available in the Developers - Chameleon SDK Downloads section.