User Community profiles
Below, we bring together interviews with some international Chameleon users. You can read about who they are, how they use their Chamy, and what they like about it...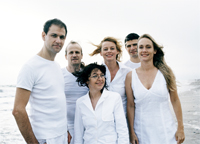 Bruno Lecossois, the composer and group director, is the man who made it all happen. Passionately dedicated to the voice in all its radiance and diverse expressive capacities, Bruno formed his first group, "Blues Band," at the age of fifteen. In 1995 Les Grandes Gueules was formed as a five peice a cappella group, later in June 1998 the five became six. Who are - Elsa Gely, Pascale Ruvira, Véronique Lherm, Odile Fargere, David Richard and Bruno Lecossois.
They currently use 3 Chameleons on stage, so each of the 6 vocalists has their own loop machine! The next album/show will make an intensive use of loops.
Q: What projects are you working on at the moment?
Our second album is relased on February 2006 (Sony BMG) and we are also preparing the next show called "vocal extrême".
Q: What is your current studio and live set-up?
A: Mainly protools in the studio, but also on stage with the Chameleons loaded with the looper soundskin.
(Mac Protools is used to send clicks and notes to the singers ears, using a few RTAS plugins and also sending midi messages to the looper and the light controllers desk)
Q: What is it you like about the Chameleon platform?
A: Acess to a multitude of things at low cost... and versatility of the machine wich permits the ceation of personal tools like the looper and infiltrator.
Q: How does the chameleon helps you in your work ?
A: In studio, we were using loops, but there were no ideal tool to make it live.
Some sampler machines exist on the market, but for now, looper is the most effective for our work.
Q: Which Soundskin has caught your attention?
A: infiltrator! Being a vocal band opened to technology, we like the various vocoders included in this soundskin.
Q: What soundskin would you like to see come out next?
A: An Audio-to-Midi converter, something wich would allow to transform a sound into a midi note to feed another synth, pads or a drum machine...
Read more about Les Grandes Gueules on their website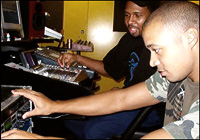 Black Cherry are a london-based production crew. they are very active producers and performers, doing session work, running bands and developing up and coming young artists.
Mathew Phillip, (pictured at his rack) is also the band leader for one of the finest Steel Pan bands in the country, who have won many awards and toured all over the world.
Q: What projects are you working on at the moment?
A: We've got various projects on the go, including work with Finlay Quaye. We also do a lot of development work with a couple of singers called Leah & Taymah, who have just got into the final ten of the UK BBC Urban Talent show hosted by Trevor Nelson. We used the Chameleon with Australis loaded for all the bass sounds - it really is excellent.
Q: What is your current studio set-up?
A: We are using an AKAI MPC 4000 for our beats, a Yamaha 03D desk, and a fast mac with Protools hardware. On top we have an Access Virus, Korg Trinity, Chameleon, Focusrite Voicemaster Pro, AMT8, a nice AKG valve mic, Yamaha W7, Samson s-phone, some Roland V-Drums, and for monitoring Tannoy reveal and Yamaha NS10 monitors. This all suits us perfectly for our writing set up, and then we can transfer stuff to larger studios for mixing and mastering when we need to.
Q: What is it you like about the Chameleon platform?
A: On top of all it's flexibility, it just sounds really good. At the moment it is mainly being used as a sound module (Australis) with great results. With our set-up we don't really need the FX skins so much right now, but they will come in handy if we do something on the road. But we are definitely going to tackle that vocoder (Infiltrator) next.
Q: Which Soundskin has caught your attention?
A: Well, I have to say the Infiltrator really got me when I heard it. but the Australis is the one we use all the time, so...
Q: What soundskin would you like to see come out next?
A: Someone mentioned a click track machine for gigs, and as a drummer I think thats a great idea.
Q: Where do you see the future of the music industry?
A: The Big Boys are going DOWN!

Big Box Studios is music studio complex in South London, UK. As well as providing purpose built production spaces to many production companies such as Ministry of sound, BMJ, Mint Source records, Big Box Studios also run music technology courses for Goldsmiths College, University of London.
They engineer, record and produce a wide range of artists. Current work includes everything from theatical sound design, live sound at Glastonbury Festival, working with upcoming UK garage acts and Ghanain High Life records to post-production for feature films.
Q: What is your current studio set-up?
A: Although we love to use modern digital kit and are based around a Mac with Protools hardware and Logic, we are also centred around a classic old British hand-built desk from the 70's, made for the BBC. It is the Chilton QM3 24:16:16:2, which sounds really sweet and has eight built-in compressors. Monitoring we use Yamaha NS10s, and some huge Tannoy Cheviots that we've hung from the ceiling. For outboard, we've got loads, including many bits and pieces that we collect on ebay real cheap and fix up. There's an AMS RMX16, Ensonique DP4, Lexicon PCM41, Lexicon MPX1, Quadverb, Deltalab delay, TLA 5021, 2 Marti CA40 opto compressors, Altec mono compressor, BBE sonique max. There's also our Chameleon, a couple of Klark Tecknic graphics, Symetric Noise Reduction and loads of nice Mics. We are a mix of old school and the latest stuff. That way we get the best of both worlds.
Q: What is it you like about the Chameleon platform?
A: The Chameleon is definitely a serious bit of studio kit, it sounds good (24 bit!!) and is easy to use. I have been impressed with how easy it is to load up the different patches and I have found myself creating some really great sounds. I also find editing the sound easy and I have found the synth skin (Australis) a useful teaching tool for explaining synthesis to students on the music technology Foundation and Certificate Programme we run.
Q: Which Soundskin has caught your attention?
A: The Infiltrator. At last a very usable Vocoder which I will find useful for making loads of sounds. I think that my sound design work for the theatre will benefit from having another load of crazy filters. we are always looking for new sounds to play with and this certainly does that!
Q: What soundskin would you like to see come out next?
A: I would like to see other manufactures develop some skins - Lexicon and so on. Are you listening Mr Lexicon? Also, it would be good to have a channel strip with mic pre - EQ - De esser and compressor.
Q: Where do you see the future of the music industry?
A: As far a technology I expect that there will always be the need for standalone hardware. I think soft synths and VST instruments are here to stay, but the Chameleon is ideal as a really decent, stable live/studio piece of equipment. There are strong arguments for keeping processing of DSP stuff on separate boxes, and avoiding overloading your computer.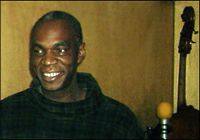 BeatDis is an arts organisation and registered charity based in the heart of Notting Hill, West London, one of the buzzing centres of the UK music industry. Their award winning music technology courses are recommended by the distributors of Logic Audio in the UK, and have been praised for their teaching standards and innovation by the UK government. They also run the Notting Hill Jazz Festival and a high end studio.
Based in the Tabernacle Arts Centre, their state of the art studio runs Protools and Logic, and can record from the famous 300 capacity Tabernacle theatre via BBC installed videolinks and tie-lines. Their work includes TV and radio broadcasts for Notting Hill Carnival, film and television work and production with many famous music artists.
Q: What projects are you working on at the moment?
A: We are working on a pitch for an Oliver Stone movie, and we've just done some big recordings of live concerts from the concert hall that we are mixing down.
Q: What is your current studio set-up?
A: We have several studios, including a portable system using a G4 laptop and ProTool HD. The main studio is based around A: Mackie D8B, Mac G5, Logic 6, Protools HD hardware. We have ADAMs and PMC monitors, a 50-inch plasma screen, an MPC4000, JV1080, a Chameleon, some good analog outboard compression, Lexicon FX, and loads more.
Q: What is it you like about the Chameleon platform?
A: We like to keep ahead of the pack, and as teachers as well as users we need to know what's out there on the market. The hardware industry has changed a lot recently, and the Chameleon represents a really interesting turn - we are keen to see where it will lead. Already it is capable of many things that we really like, and it doesn't seem to stop either...we are fully supportive of real innovation like this and are getting lots of positive feedback from all the people who we show it to.
As a high quality tool with many functions it is perfect for teaching about the power of DSP versus computer based systems. It is important for people to know the huge difference, and to understand the advantages of both.
Q: Which Soundskin has caught your attention?
A: Right now the Australis is loaded as default. it is just so nice to use. Plug-ins are nice but its so good to get your hands on things and screw around with the sound. but we use them all, depending on the demands of a session. the new recerb (RoomVerb M1) is a welcome addition.
Q: What soundskin would you like to see come out next?
A: On screen editing would be a great way to go. That way it will integrate even better into our system.
Q: Where do you see the future of the music industry?
A: This is a question we are always trying to answer for the many people who come on our courses. Things move so fast it is never a sure thing! The most important thing is to invest in quality tools. Hardware lasts, and does exactly the same thing years down the line. if it is quality, in a way it doesn't matter how old it is. But there is no doubt that computers, with their flexibility, have revolutionised the industry, and it doesn't look like it is going to stop. So when companies are bringing out flexible hardware to go with it, that's a great step.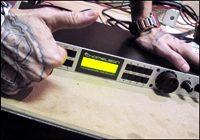 Paco Jones is one of the premiere DJs and producers in Barcelona. As Profesor Angel Dust he has played at all the main clubs and festivals in Spain, including Sonar, Doctor Music, Benicasim, Festimad, Esparrago and more. He has released many LPs, compilations and a load of remixes for different artists (Peret, Manta Ray, Chop Suey, Fundación Tony Manero, Ojos de Brujo, etc.).
He signed with Virgin España and released Guapacheando with his well known version of Santana's "Oye Como Va" with Mucho Muchacho on the mic.
From 2000 he formed the Dope Brothers with his brother Lippo and started the now famous Bongo Lounge at La Paloma (BCN) which has turned thursday nights into one of the classic Barcelona partys.
Q: What studio releases do you have coming up soon?
A: I'm working with Lippo to release a bongoe lounge compilation CD (October 2003) with Dro-East West ( Warner Bros.) for 2004
Q: What is your current studio /live setup?
A: I use a Mac G4, Logic and ProTools, the new Tascam digital desk, an MPC2000XL, TLA compressors and a load of other outboard, a Chameleon, loads of old synths like moogs and an Oscar, a Fender Rhodes, tonnes of software, and my trusty PMC monitors.
Q: What is it you like about the Chameleon platform?
A: The flexibility to change from one device to another. It's totally unique and fits perfectly into the way I work. I've begun to reduce my kit list, and keep only what's really necessary. If I decide to use the Chameleon live, I can take the vocoder and filters out to blow some speakers, and still have other things for daily use in the studio.
Q: Which Soundskin do you like the most?
A: Infiltrator. I love it. You can make it do totally weird things and I'm trying out so many things with it as I'm finishing off my new album, from the f**ked up filtering effects to the multi-band dynamics. And it's better than a plug-in in many ways cos I can use it live too without worrying about it crashing. I love all what can be done with computers, but they are a pain in the ass sometimes...
Q: What soundskin would you like to see come out next?
A: I reckon a full-on monosynth for leads and fat basses. or a voice channel. could it do an autotune-type thing? or what about an on screen editor for all the shit it does now? that would be cool.
Q: Where do you see the future of the music industry?
A: It'll never stop, that's for sure. It's changing quickly but there's always great new shit coming out, both from the people that make instruments and those who use them. And here in Spain the markets are growing and growing for hiphop, which I think is great, too. It's taken a while...people are really responding to it now.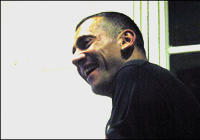 Tony Verdi has for years been considered one of the best DJ's in Spain. Back in 1986 his career took off professionally and soon after, he became a legend with his residency at the mythical "SALA VERDI" (where his artistic name imposed by the public comes from).
This has helped him become a true pioneer of electronic music, fusing feeling with impeccable mixes of electronic body music, rock, pop, house, new beat, techno, new age and acapellas. He has created a very personal style and concept which has served as a reference and influence for generations of DJs.
Q: What studio releases do you have coming up soon?
A: Tony Verdi & Frankie G - Berlin
Q: What is your current studio set-up?
A: Mac G4 and logic 6.1,Digi OO1, Mackie 32-8 desk, loads of software and BM15 Dynaudio Active Monitors. My racks include Novation supernova, Bass and Drum stations ,AKAI CD3000. Art Tube Compressor ,M-one, D-two, M300 and Finalizer 96K from TC, Lexicon MPX100. I got loads of older stuff too, 909, 707, TB303, juno 106, RED SH101 which I love to use hands on, Yamaha DX27, Korg Mono-poly, Kurzweil K-2000. Then loads and loads of records and 3 decks. ...and a Chameleon.
Q: What is it you like about your Chameleon?
A: It just keeps getting better and better. I can see now it's endless what it can do. Since I got it three new skins have come out. But even so, what it did already was great...the synth (Australis) sounds fat and the filters are deep. It's got character, like the Virus. Or the FX (Chromasonic) is nice and solid, and Infiltrator is just unique - its loads of fun to use with the front panel Real Time Controllers without even editing anything. And Fahrenheit sounds like the real thing. It's always nice to see a Spanish company ahead of the rest!
Q: Which Soundskin do you like the most?
A: Infiltrator ­ the sounds you can get out of it are awesome and nothing else is like it.
Q: What soundskin would you like to see come out next?
A: Maybe some live tools, or a killer reverb - it can do that, right? (Done!) Some more sound mangling stuff would be good too.
Q: Where do you see the future of the music industry?
A: well, loads more digital tools coming out, and lots more music. there's so much opportunity now for people to make music its crazy. Young people are just all getting their hands on these new digital tools and it's so great to see where it is going.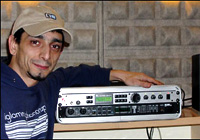 Alex Martin is one of the main producers featured on the well known electronic music compilation "Pangaea 2097". Alex concocts his own brand of electronic music in his studio at Cerdanyola in the hills just outside of Barcelona. Since his 1993 debut release on Madrid's Zen Records, his tracks have graced a "who's who" of European electronic labels: from Barcelona's Cosmos to Paris' F Communication and Frankfurt's Playhouse.
In his own country he is also seen as one of the country's premiere avant-garde composers. He has appeared many times on Spanish TV and in the media. An accomplished musician, Alex is not restricted to the studio. With his Alex Martin Ensemble, he has performed at Sonar, Andorra Jazz and Doctor Music Festivals, while events for F Communication and Privilege, Ibiza have seen him rock the clubs.
Q: What projects are you working on at the moment?
A: Now I´m really deep into the forthcoming "Alex Martin Ensemble" album... This is number four and it is becoming a challenge to shape, as I want to take a giant step for my music with this new release. The chammy will do lots of work, that's for sure... I´m also working on a electronic/ techstep/ drumandbass thing and I will try to roll it live and do some club gigs soon...
Q: What is your current studio set-up - how does the Chameleon fit in?
A: My current setup is very simple these days - PC, Chameleon, Houston controller, Motu 828MK2, Evolution MIDI keyboard and a weighted MIDI keyboard. I run Cubase SX as my main tool, but I also like Reaktor 4, QuadraSID, and some other free ( and great!!! ) VST plugs... I was a collector of analogue synths, but one day I felt like I could see the future, so I sold all my 'real' stuff and went into 'virtual' workstations. So lately no modern hardware synth grabbed my attention until I discovered the Chameleon - the two worlds in one machine... I had to have one! :) So, the only hardsynth I use today is my chamy.
Q: How did you first hear about the Chameleon?
A: Hmmmm, I think it was on a mag, but I think it wasn´t ready at that time...Then my friend Andreu Jacob opened my eyes one day, I will always thank him for doing so...
Q: What is it you like about the Chameleon platform?
A:The flexibility of choosing what you want to do with it; the developer kit; I like the main philosophy, as I understand it. You can use it in many ways, become a pure user, or be a DSP sound designer if you have the skills or want to develop them... My point of view is that the one of the best things about the Chameleon platform is what future will bring. For me no other hardware is this open.
Q: Which Soundskin has caught your attention?
A: Actually, the whole Chameleon world as caught my attention! :) I´m impressed with all the available skins, I´m very happy with Australis and Fahrenheit, but Infiltrator will be a real workhorse in my next albums for sure. Also one thing that shocked my brain was that the machine is a Spanish concept and product - it is about time for us to do something like that for the rest of the world...
Q: What soundskin would you like to see come out next?
A: Hmmmm, nice shot.... :) Ready? Electric piano physical emulation, Commodore 64 SID chip emulation, even better emulation for drums on "Fahrenheit" They are really, really close, but I worked on the original machines loads so I'm a very tough person to please - and space invaders game! :)
Q: Where do you see the future of the music industry?
A: Eh! In a black hole, nobody knows what is awating on the other side. For me, it´s so sad that in these days when the creative tools are not a problem, there is lot of music/art production that goes into oblivion due to piracy, the slow agony of major record companies, shitty TV... I could write lines and lines talking about these kind of things, but I prefer to fight against that mediocrity and keep producing...
Q: Is there anything esle you'd like to add?
A: Just some respect where it's due...to the whole Soundart team - Simon, Jose, Vicente, Oriol, Jesus, Sergi: Keep up the great work! Paco and Tony: nice to see you are also "Soundskinned" ;), Llunasol: nice sounds ;), Chamy community: keep on growing!