News and Events
The complete listing of the Soundart News are here. If you want to be informed about Soundart's next move, we suggest that you join our mailing list - and since we all live in the "information overload age", you will be pleased to hear that you can decide exactly what kind of news you want to receive (and from where).
To sign on, go to Mailing Lists.

25th June 2004
Soundart are pleased to release version 1.0 of their PC and Mac based standalone graphical editor. The development of this program means the Chameleon can integrate even better into computer-based systems.
The Australis GUI module allows the editing, saving and uploading of presets, as well as loading the skins themselves, with easy parameter control via MIDI. Users can design their own patches, manage their libraries of sounds and save everything locally to their hard-disc. This way, the task of switching skins and loading all your favourite sounds is made even easier.
Version 1.0 offers comprehensive control over Australis in Multi Mode, including all the parameters of individual single parts within a multi. Editing directly in Single Mode will follow in an upcoming release of the GUI.
There are three versions available which can be downloaded from the Australis page, together with a new version of Australis (v1.23) supporting all features offered by the GUI.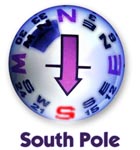 18th June 2004
We are pleased to announce the release of a new Open Source project for the Chameleon. This project has been developed entirely by Aleix Riera (aleix@fjarre.com), an independent Spanish Chameleon developer.Now that it has reached version 1.0, Aleix has kindly decided to publicly release the source code to allow other developers to continue to improve this new Soundskin.
South Pole features four parallel filter bank lines with SP-Delay and Hot Saturation units. It makes a great solution for creating long, dynamic and constantly pseudo-random evolving organic pads, ensembles and strings. The possibility of very slow modulations provides the musician with a powerful way of making huge and endless sustained sounds and chords.
By enabling all of the four 4-Pole Filter lines at the same time you can use SouthPole's transformation capability to make your own experimental phaser effects over the largest pads: As Aleix says "Find the end of the rainbow and fly wherever the winds blow".
The main features of South Pole v1.0 include:
Filter Bank: 3 types of 24 dB filter (Low-Pass, Band-Pass and High-Pass) in parallel mode with each line out of four lines available. A total of 12 stereo auto-oscillating Moog-way conceived filters.
Low Frequency Oscillator Bank: 3 LFO's with their 3 offset adders in each line connected directly to the Filter Controls (cut off, resonance and panning). A total of twelve 0-to-40 Hz logarithmic LFO's working in parallel mode. All parameters are easily and directly controllable with the knobs by the user (amplitude, frequency and offset).
SP-Delay Unit: A 4-channel mixer followed by a logarithmic stereo Delay (1,1 milliseconds up to 11 seconds) gives the complete control of the 4 send levels, including a Random control of the echo times.
Hot-Saturation Unit: A stereo Hot-Saturation Unit will slowly burn the sound, making it crackle and scream. It works directly on the Filter Bank (after them, in lines 1 & 2, and before in 3 & 4). Great for creating the sounds of early electronic organs and really useful for agressive drums and percussion.
Global Mixer: A 3-channel stereo mixer allows you to separate the original sound, the line-processed sound, and the delayed sound to adjust the perfect balance for the final mix.
Factory and User Presets Bank: A total of 256 flash memory slots with 256 Factory and User Presets. The 128 Factory Presets and the 128 totally editable User Presets Bank gives you rapid access to your own SouthPole configurations and patches.
leix Riera has setup a website to host the Soundskin, including all the documentation in English and the source code. All this can be downloaded from:
http://www.fjarre.com/users/aleix/southpole
This new release demonstrates once again that the Chameleon is more alive than ever and its power doesn't stop growing day after day. Today Chameleon users can again take benefit from a new free Soundskin which once again lifts the Chameleon's value/performance ratio to even greater heights.

7th May 2004
Soundart are pleased to make end-users and developers a fantastic offer.
After two years, the current manufacturing run of Chameleons is coming to an end.
This time however they will not be produced again, as technical options have evolved since the original design.
Of course, the very nature of the Chameleon means that it will never really stop growing.
Soundart's thorough support for third party audio tool developers, educators and researchers will continue as before, just as the development of future Soundart soundskins and features will continue too. The imminent cross-platform Graphical User Interface is a prime example of this commitment.
But naturally, like all manufacturers in a fast-paced industry, we are concentrating our hardware development on the new generation of our Chameleon DSP engine. We cannot reveal anything yet, as we never like to make outlandish promises. However it is likely to be aimed at a pro level in features, connectivity and price. It is also unlikely to be available before Q2 2005.
So in the light of continued demand, as of May 2004 we have decided to also make available units that have previously been used by us for reviews, demos, shows and events, at a discount price. The ex-demo units on offer are identical in features, general condition and come with all the same manuals, box and CD-ROM as our regular unused stock.
All units are thoroughly re-tested by the design team and come with the same level of guarantee and warranty as a brand new Chameleon. Any units that have not met our high standards are not included in this limited offer.
There are of course still good supplies of brand new Chameleons available for those who wish to buy them.
As of writing there are 39 ex-demo units available, and can be bought direct from Soundart at a special price of 345 Euros plus shipping and taxes!
To purchase one of these Chameleons, simply choose the "ex-demo" category in our online shop or contact us directly.

10th March 2004
Soundart and Spin Audio are pleased to announce the full version of ROOMVERB M1 (v1.0), the dedicated reverb soundskin for the Chameleon, already acclaimed for its super-smooth sound while beta. With this skin loaded the Chameleon rack becomes a high-quality true-stereo reverb unit for use on stage or in the studio.

It has been ported to the Chameleons DSP chips from Spin Audio's respected native Roomverb M1 plug-in. Now thanks to the Chameleon, fans of the Roomverb plug-in sound can now take it on-stage with the total peace of mind offered by DSP hardware. And of course, it is offered FREE by Soundart to all Chameleon users.
ROOMVERB M1 v1.0 boasts a number of important improvements under the hood. The beta test period has ended and come up with significant improvements in the algorithm kernel, robustness and stability, along with even smoother filters and transparent reverb tails.
Highlights include:
True-Stereo acoustic space sizes range from small bath rooms to large halls/plate simulation
Diffuse control for simulation of irregular room shapes and stereo spread
Separate mix and pre-delay control of Early and Late reflections
Relative L/R Shift control
Reverb tails up to 20 seconds
Reverb tail modulation
Comprehensive tone control system that includes separate 2-band shelving equalizers for Early and Late reflections
Two-band frequency-dependant decay filters
Detailed level meters
Bypass, encoder lock and clip indicators
100 Ready-to-use presets crafted by pro studio engineers, with a total of 128 user preset locations
All Chameleon users can download the new skin FREE from the Roomverb M1 page.

9th January 2004
Soundart are pleased to announce our latest full soundskin for the Chameleon. We released the Beta version of Amp-O-Matic back in January 2003, and now we bring it bang up-to-date with our hotly anticipated v1.0.

This complete overhaul of Amp-O-Matic boasts a wide range of new FX and mixing options.
As well as a host of new amp simulations, we have packed in two 'guitar-pedal' FX before the amp modeller and three stereo-effect slots afterwards, with total control over the flow of sound around the system.
Now the Chameleon has all it takes to emulate a guitarist's complete system on stage or in the studio. With Amp-O-Matic loaded, guitarists and keyboardists can get a fat, crunchy and fuzzy wah-wah sound on one song, and switch to a completely different set-up for the next. What's more, although the routing and mixing system is very flexible and powerful, it has been specifically designed to make a performers life easy as well. This includes features like popular pre-defined routing options to select from and a 'quickmixer' that allows you to activate and balance all the FX on one screen intuitively...
An interesting feature is that all the modules in the soundskin are easily switchable on/off. This way, Amp-O-Matic could be used for instance with a real pre-amp just as a cabinet or a power-amp simulator, or as a multieffect box, with all the other modules switched off.
Highlights include:
16 pre-amp models (both tube and solid state modelling)
3 equalisation models (Vintage, Modern and Parametric)
4 power-amp models (both tube and solid state modelling)
15 speaker cabinet models
Special noise reduction algorithm
Extensive signal routing capabilities, including classic pre-configured routings
Built-in chromatic tuner with +/- 3 cents accuracy and a 440hz reference adjustable sharp and flat between 416-460 Hz
Input and output signal meters with clipping indicators
New and handy Quick Mixer mode for effortless mix balance
Tempo sync (internal, external and tap) for the time based effects and built-in metronome
Up to 5 simultaneous effects (2 mono and 3 stereo) optimised for specific-guitar processing, including:

Reverb
Chorus
Phaser
Flanger
Delay
Tremolo
Autopanner
Wah-Wah (manual, envelope or LFO with tempo sync)
Pitch-Shift
Compressor

18 Realtime controllers: 9 pre-assigned to most common amp parameters (Volume, Gain, Presence, EQ, etc), and 9 more can be assigned to any of the front panel Realtime controller pots to control virtually any internal parameter for hands on control and performance duties
Comprehensive MIDI implementation
You can assign the standard MIDI Expression controller (number 11) to virtually any effect parameter
Flexible system parameters configuration
128 user presets to store effect combinations permanently
Factory bank with 64 presets included
Compare preset function
The Chameleon with Amp-O-Matic loaded is now ideal as the guitarist's silent practice aid, the stage keyboardist's perfect rackunit, or the handy rehearsal tool for bands. It also works great in the studio as a fat multi-FX for dirty, grungy sounds on drums, vocals and more.
This is, of course, when the Chameleon is not being used as a synth, a vocoder, a reverb, a dance production machine and more...rackunits are changing fast, and the Chameleon is leading the way.
It is available now as a free download for Chameleon users on the Amp-O-Matic page.

7th January 2004
Soundart in partnership with Paul Maddox are pleased to announce the release of Monowave II v1.20, the dirty, lo-fi monosynth soundskin for the Chameleon.
With this release Monowave II becomes open-source and all chameleon coders can join the public project simply by downloading the code and making their own modifications.
As an experienced hardware designer who wanted to learn DSP coding, Paul took the simple monosynth DSP code bundled free with the Chameleon Software Development Kit and expanded it to create Monowave II. He has added many modifications to turn it into a very distinctive and characterful virtual analog monosynth with a number of unique features and modulation capabilities.
Now he has compiled and annotated the code he has created, and has made it public for all to use as a further starting point for their own DSP adventures...
Paul says:
"The MonowaveII builds on the success of my own hardware synth Monowave, offering increased functionality, improved modulation routing, patch memory and some exciting new features. It is now open-source to encourage others to modify it to their own taste, but also to show that you don't have a DSP/Maths guru to write skins for the Chameleon!"
Main features include:
3 Oscillators, each with 256 waveforms and a unique 'de-res' function for lo-fi sound
5 input mixer, three oscillators, noise and external input for filtering
4-pole 24dB resonating filter with the unique option to 'sweep' between 4 pole, bandpass and 1 pole modes seamlessly
3 assignable Realtime Controllers with 'show' function to remind you what it is assigned to
Comprehensive MIDI CC control for internal parameters
128 Patch memory
Stereo delay line
2 LFOs with 64 classic and complex waveforms
3 ADSR envelope generators
Unique routing modulation capabilities such as velocity to osc waveform, or EG to Resonance, for highly expressive sounds
The skin is available now as a free download for Chameleon users on the MonoWaveII page.