The Entity is a true stereo, no compromise, polyphonic synthesizer for the Soundart Chameleon. It includes filters based on real analogue circuitry. It was developed by Tony Hardie-Bick.
Entity includes two entire user interfaces, enabling users to go from a familiar Chameleon interface to the highest speed interface available for a synth with so many parameters.
A radical non-registered parameter (NRPN) specification makes it possible to control any of the Entity's precise parameters using most standalone keyboard controllers and/or standard sequencer software.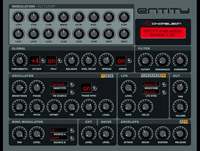 VSTi Editor available
Two Chameleon addicts have created a VST based editor for entity. They are Si-Rus and The RandomiZr, well done guys!
The Entity Midi Editor is a free VST based control surface for remote editing of 'Entity'.
The editor uses NRPN control to achieve a higher resolution than possible with standard midi control change.
Downloads
Latest Version of Entity (V1.01 - 1st March 2006) ;-
The Entity User guide is available seperatly.
Entity VSTi editor downloads
Developer resource
If you want to download the source code for the current version of Entity (GPL), you can download it
Tony's website is here - Www.EntitySynth.Net
Features
Main filter, stereo 12dB per octave distorting oscillating filters, based on real analogue circuitry
3 Oscillators variable from sine to saw/square and further, with frequency modulation
Stereo noise generator, with its own set of distorting filters
External audio input, for processing external sounds
Ring modulator, with input from any of the internal audio signals
16 modulation sources :

4 LFOs per voice (LFO1-4)
2 envelopes per voice
2 LFOs shared by all the voices (LFO5 &6), and which are capable of midi sync
4 realtime control sources (CTR1-3, midi modulation)
2 voice and stack parameters for spreading voice characteristics
1 key velocity and
1 key follower parameter

Modulation matrix with variable routing to any number of parameters
6 note Polyphonic
Multiple Chameleons can be cascaded to increase polyphony
MIDI syncable LFOs, with innovative Midi LFO sync sustain feature
Radical user interface for maximum programmability
Full stereo signal routing throughout
All modulation sources can be applied in any combination of depths, and without limitation, to any of 87 voice parameters, including parameters such as waveform selection, octave, ring modulator source selection, etc, as well as continuous parameters.
Voices can be stacked with up to six voices per note, with programmable voice transposition for each voice in the stack, and polyphony maintained in accordance with the number of voices available. Up to eight Chameleons can be cascaded to increase the number of voices.
The synth can also be played monophonically, and has a monophonic and polyphonic portamento capability.
Midi tunings other than equal temperament can be downloaded in midi tuning format, and stored as part of a sound.
Sound Examples
The following sound samples demonstrate some of the capabilities of Entity. These clips were recorded straight from the output of the Chameleon into a computer for compressing to mp3 format.